Quick Links
FACULTY & STAFF
What parents are saying: "I could not agree more that SCDS is doing an amazing job on all fronts. My child enjoys going to school, likes the curriculum and the faculty and has made a number of new friends... all good! Thank you for all you and the faculty and staff at SCDS do day in and day out."
The Scottsdale Country Day School staff have been carefully selected to represent a plethora of educations, experiences, and unique skills to ensure each of our students are afforded a rounded education. Staff at the SCDS charter goes above and beyond when it comes down to helping each individual student be successful and will often be found after school working with students individually or in small groups.
Open communication is imperative for each child to be successful and our staff encourages parents to be involved with their child to optimize learning opportunities.
Click here for employment opportunities at SCDS.
Click on any Staff Member's name to read more about them.
Click on any image with the video icon (

) to play video.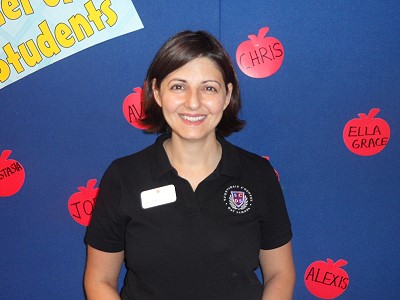 Hello, my name is Kathy Prahcharov, and I am the Director of Operations at Scottsdale Country Day School. A native of New York City, I moved to Phoenix 20 years ago. I graduated from Arizona State University with a degree in business communication.
I possess extensive experience in event planning and international business communication. My business background and love of travel have presented many opportunities to experience different cultures such as enjoying brick oven pizza in Italy, coming face to face with monkeys in Costa Rica, enjoying the view from the Eifel Tower, and watching USA play at the 2006 World Cup in Germany.
At SCDS, I supervise the daily operations and management in the main office. A highlight of being the first point of contact in the office is the opportunity to get to know parents and interact with the students. It is personal relationships with our families that helps create a family community at school.
We are fortunate to have such hard-working and talented teachers who make great contributions at SCDS for our students. My goal in the office is to create an atmosphere that fosters learning, acknowledgment of successes, school pride, and an environment in which it is enjoyable to work and learn.
I can't help but smile when I talk about our 3 wonderful children, Elle, Henry, and Spencer. They are the inspiration for SCDS and the driving force that gives Steve and me the continued knowledge, creativity, and dedication to this wonderful school. I look forward to watching each student flourish at SCDS.
Please contact me at 480-452-5777 or at kathy@scdsaz.com with any questions about our school.

In compliance with ARS § 15-183-F parent(s)/guardian(s) are hereby notified that
resume information for all teachers is located in the front office and is available
to the parent(s)/guardian(s) of any currently enrolled student.